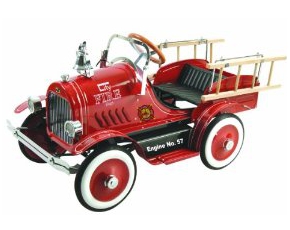 Many parents know the frustration of the toddler who is beginning to show a bit of independence when they refuse to sit in the convenient stroller. Even the very young, seem to prefer the battery operated "Big People" toys which resemble a car, truck, or a scooter seen being ridden in the cities by working people, who prefer to ride rather than walk.  An old toy, which kept kids occupied in the 50's and 60's were the pedal toys, resembling trucks, cars, and even fire engines are beginning to make a come back.
Every young child is amazed at the fire truck with its fireman on the back, and the bright red flashing light with siren sounding off.  Every child wants to ride the fire truck as they go by in a parade.  The battery operated riding toys are adorable, but nothing compares to the authentic style of the pedal fire trucks.  There are  multiple websites where pedal fire trucks can be purchased at a reasonable cost.  Auction sites may provide some good finds for a used pedal fire truck that is in pristine condition.
The Instep Fire Truck is a vintage style fire engine complete with a working bell and wooden ladders.  On the side is the Fire Department emblem, Fire and Rescue boldly written, along with a picture of "Old Sparky", the firehouse dog.  The construction materials vary from the heavy duty metal to plastic.  The Airflow Collectibles Fire Engine Pedal truck is a great find. This metal constructed fire engine will be the delight of any from 3-6 year old.  They will need a helmet as they remove the ladders, and hose to fight their imaginary fire. Traffic will certainly move for the little firefighter, as he rings the authentic style bell.  The truck grows, with a pedal adjustment feature, along with the child. There are other models with working lights and sirens, as found with the FeeNix pedal firetruck.
Pedal fire trucks have many advantages.  One is that they may very well end the screaming because a toddler doesn't want to sit in the stroller for a walk to the corner store.  So many of the young get frustrated when they can't ride their bikes, because they just can't get those little legs working together in a coordinated fashion, which adds to fear of falling.  Instead of riding the new tricycle, they push it.  Secondly, The pedal toy gets them out of the house, and actually exercising while playing.  The pedal action of a pedal fire truck helps develop coordination, improve motor skills, and provides  cardiovascular exercise.  The realistic features of these pedal firetrucks allow the imagination to run wild.  The advantages for mom and dad are that the cost is less than those battery operated riding toys, as well as the elimination of an unhappy child because someone forgot to recharge the battery of his favorite toy.
Click Here To Check Out This Product
Tags: old pedal fire truck