Pedal tractors are wonderful toys that stimulate a child's imagination. Kids always enjoy emulating activities they see adults involved in. Whether a child enjoys observing farmers at work, or watching construction workers busy with their jobs on the road, a pedal tractor can give him a chance to experience a bit of what it feels like. With this toy, his imagination can run free while getting some exercise to further develop his little body.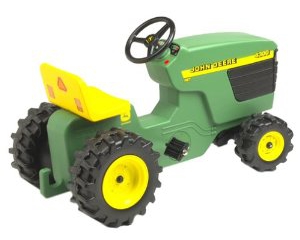 There are several kinds of pedal tractors designed to imitate the more popular types of farm equipment such as utility tractors and plows, among others. Bulldozers, front loaders and backhoes are just some of the many kinds of pedal-type trucks that are able to emulate the usual equipment commonly used for construction work. Children can really have a great time riding away on all types of terrain because of their hardwearing tires. And since they are powered by a child's effort on the pedal, it isn't very difficult to keep sight of the young rider. These particular pedal trucks are made in such a way that children from 2 to 8 years old have their own special kind of tractor to enjoy. These toys are pedal-powered, designed so a child sits straddled on the toy. The John Deere "Sit N' Scoot Activity Tractor" for instance can be a toddler's first riding experience, encouraging him to use his imagination while teaching him all about the sounds he can hear from the farm. This type of pedal tractors have a special 3 featured design that gives him a chance to scoot around on his own, push along, or even enjoy being pushed by the adults in the family.
For kids ages 3 and up, the "Porsche Diesel Junior Tractor" is a replica of the original Porsche Diesel of Europe. This is one of the more durable pedal tractors made for kids, with special features such as Ackermann steering, an adjustable seat, and trailer coupling, both at the front and in the back, together with great-looking rear fenders. The "Big Jimmy Loader + Trailer" is another sturdy tractor for kids that feature a precision-type chain drive along with a trailer, a high backrest, Ackermann steering, adjustable seat, a loader bucket, and so many more. Kids will definitely get a kick out of this vehicle. Pedal-powered vehicles are constructed so that they are safe and very durable, primarily to be able to withstand the many activities of their high-energy riders.
Click Here for a Great Special on Pedal Tractors
Tags: pedal tractors