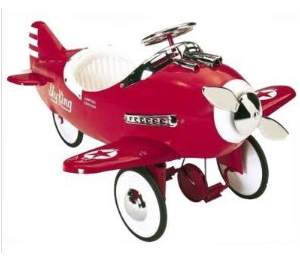 Have you ever had the hardest time trying to figure out what a child wants as a gift or something that would be different yet entertaining? Well this has been an issue over the years and finding old fashioned tricycles is difficult to do today. Also with times changing with technology and toys, kids now look to electronics instead of the traditional simple toys that were once the highlight of our parents' or grandparents' childhood. Now you can introduce the pedal plane that is sure to be a hit among most three to six year olds.
Pedal planes are not only for boys but girls can enjoy them also. The pedal plane usually comes in blue, white, chrome, pink, red or black depending on which kind you get. So if you have a girl who loves planes or just want to surprise her with something pink, the Fantasy Flyer model is perfect. Maybe you have a toddler who wants to imitate his or her parent in the military, then the Navy Corsair Pedal Plane painted in blue or the steel Army Patrol Pedal Plane is the way to go. The Shark Attack Pedal Plane allows your child to scare away any enemies with shark teeth graphics.
The pedal plane is made for any child who likes to pretend play or can ride a tricycle. Not only are pedal planes good for children's imagination but they are well worth the price. You can get them customized any way you like or purchase a kit so you and your child can build one together. For those kids who are not yet able to reach the pedal, a rocker conversion kit can be bought separately to go on the bottom of the pedal plane until they are ready to pedal.
With the pedal plane as a toy, now you can bring those plane sounds to life for a child. It can also help ease transitions for deployed parents and make the child feel special with a unique toy. They will actually feel as if they are really flying every time they pedal and the propeller of the pedal plane spins. So get your child something that will last, can be passed down from generation to generation, and draws them closer to you.
Click Here To Check Out This Product
Tags: Pedal Plane