Back in the fifties, the fire truck pedal car was a big success and has maintained a lot of its popularity all through the years. Satisfied customers were so happy about these toys that they kept on coming back for more. Today, fire truck pedal cars are gaining back a lot of that popularity, with children, parents, and toy collectors alike wanting to have a toy like this of their own. The antique pedal fire truck shows a lot of beautiful details and stirs the imagination of a child while giving him a way to work out his muscles through pedaling away on the truck.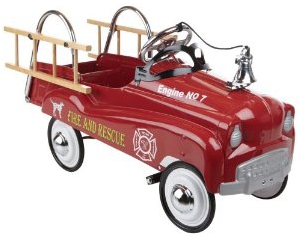 With today's modern technology, getting a child to appreciate any gadget or toy that does not work electronically can be very challenging. With the onset of various musical devices and computer games, it is certainly no surprise that children of these modern times would much rather stay cooped up indoors and work on the buttons of their many electronic gadgets. What does this mean for the family? For one thing, there is a lot less quality time to socialize and bond with the rest of the family members, which is not really an ideal situation at all. Additionally, the time that is spent playing with other kids and participating in more physical activities is all but gone. For a lot of parents who are growing a bit concerned about the way things are, a very good option that would definitely be a win-win situation is giving a child a pedal car, just like a fire truck pedal car. With a fire truck pedal car, playtime is transformed to how it was before, which is why it is increasing in its popularity all over again. Children like the special look of these toys, a lot like those that were prized possessions of other kids in the past. Among different colors and styles of pedal cars being sold today, fire trucks are probably among the most loved.
Take for instance the "Speedster Fire Truck" that is manufactured from metal. Toddlers can have a great time pretending to be firefighters as they speed along with this heavy duty truck that has really been designed to last. Its plastic fenders are made so that the walls and the furniture at home are protected, which is great news for moms. It also has steel wheels along with quality rubber tires. The fire truck features wooden ladders, a cute fire bell made from chrome, and ladder racks as well. This fire truck pedal car will definitely be a big hit with your tiny firefighter. There are other great styles for children of different ages to choose from. With unique toys like pedal cars, you simply can't go wrong.
Click Here for a Great Special on Fire Truck Pedal Car
Tags: Fire Truck Pedal Car