The 1932 Police Car Cruiser is a pedal car that is officially licensed by Ford. It is made to recreate the spectacular police vehicles back in the 1930s that were designed and manufactured by Ford Motor Company. It is painted with the classic black and white colors that are lead-free, thus making it friendly to the environment as well as children.
Other notable features include a non-working red light, a functioning trunk that can be opened and closed, authentic chrome Ford hubcaps, detailed 1932 grille, hood louvers, custom-designed steel body, and real solid rubber tires. These characteristics can certainly bring delight to all toy collectors and kids alike. It measures 21 x 18 x 39 inches and weighs 29 lbs.
This dramatic police car with its unique and historical qualities is truly an eye candy for everyone to admire. You definitely get your money's worth and more – especially when you see the amazed smiles of your loved ones and friends.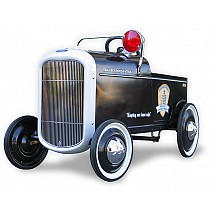 Dramatic black and white finish
Fully functioning trunk
Detailed 1932 grille
Custom graphics
Real hood louvers
Chrome "Ford" hubcaps
Officially licensed by Ford Motor Company
Specifications
Dimensions – Height (Inches)
21
Dimensions – Length (Inches)
39
Dimensions – Width (Inches)
18
Gross Weight (lbs.)
29
Shipping Carton Dimensions – Height (Inches)
18
Shipping Carton Dimensions – Length (Inches)
36
Shipping Carton Dimensions – Width (Inches)
16
Shipping Carton Gross Weight (lbs.)
35
Finish
Lead Free Powder Coat Paint w/Decals
Materials
Heavy-gauge steel body; plastic pedals and solid rubber tires