Are you a collector of Ford Roadsters? If you are, then you are in for a really big treat! Here is an adorable 1932 pink Ford Roadster, a must-have for all toy collectors and kids alike. It is a whole new pedal car that is specifically designed to recreate the famous "Deuce Coupe," one of the celebrated lines of Ford Motors.
This Roadster is certified and signed by the Ford Company. It consists of a detailed 1932 grille, hubcaps, trunk, custom graphics, real hood louvers, heavy gauge steel body, solid rubber tires, real front louvers and powder coated paint (lead-free) with decals. This car exudes class and elegance, it certainly is a classic at its best!
So what are you waiting for? Why don't you get one now and start impressing your loved ones, friends, and colleagues with this licensed Ford Roadster. This is truly a good deal that you will never regret.
Adorable pink and white finish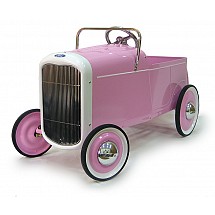 Fully functioning trunk
Detailed 1932 grille
Custom graphics
Real hood louvers
Chrome "Ford" hubcaps
Officially licensed by Ford Motor Company
Specifications
Dimensions – Height (Inches)
21
Dimensions – Length (Inches)
39
Dimensions – Width (Inches)
18
Gross Weight (lbs.)
29
Shipping Carton Dimensions – Height (Inches)
18
Shipping Carton Dimensions – Length (Inches)
36
Shipping Carton Dimensions – Width (Inches)
16
Shipping Carton Gross Weight (lbs.)
35
Finish
Lead Free Powder Coat Paint w/Decals
Materials
Heavy-gauge steel body; plastic pedals and solid rubber tires