The 1932 Fire Engine Ford Roadster is a collector's item and a ride-on delight for both adults and kids. It is particularly created to revive the famous "Deuce Coupe" line by Ford Motor Company.
It has a lot of one-of-a-kind features that include customized design with an attractively classic red paint that is free from lead, heavy gauge steel body, solid and strong rubber tires, plastic pedals, Ford hubcaps, elegantly detailed grille, a functioning trunk, and hood louvers. Just looking at this amazing toy vehicle can certainly bring out history before you!
So if you are one of those people who love to collect these kinds of cars or if you are someone who is looking for something special to give to a child, then you might want to consider buying this classic Fire Engine that is officially licensed by Ford Motors. With all these features, you are totally getting your money's worth!
Adorable pink and white finish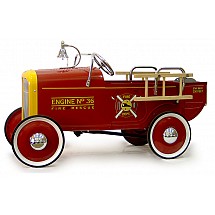 Fully functioning trunk
Detailed 1932 grille
Custom graphics
Real hood louvers
Chrome "Ford" hubcaps
Officially licensed by Ford Motor Company
Specifications
Dimensions – Height (Inches)
24
Dimensions – Length (Inches)
42
Dimensions – Width (Inches)
18
Gross Weight (lbs.)
36
Shipping Carton Dimensions – Height (Inches)
18
Shipping Carton Dimensions – Length (Inches)
36
Shipping Carton Dimensions – Width (Inches)
16
Shipping Carton Gross Weight (lbs.)
41
Finish
Lead Free Powder Coat Paint w/Decals
Materials
Heavy-gauge steel body; plastic pedals and solid rubber tires